TASHKENT, November 3. /«Dunyo» IA/. In accordance with the program of the meeting of the Council of Heads of State of the Organization of Turkic States, a solemn ceremony was held to present the President of Uzbekistan Shavkat Mirziyoyev with the highest award – the "Supreme Order of Turkic World" for his outstanding contribution to strengthening the unity of the Turkic family, active promotion of the interests and views of the Turkic countries in the international arena, reports "Dunyo" IA correspondent.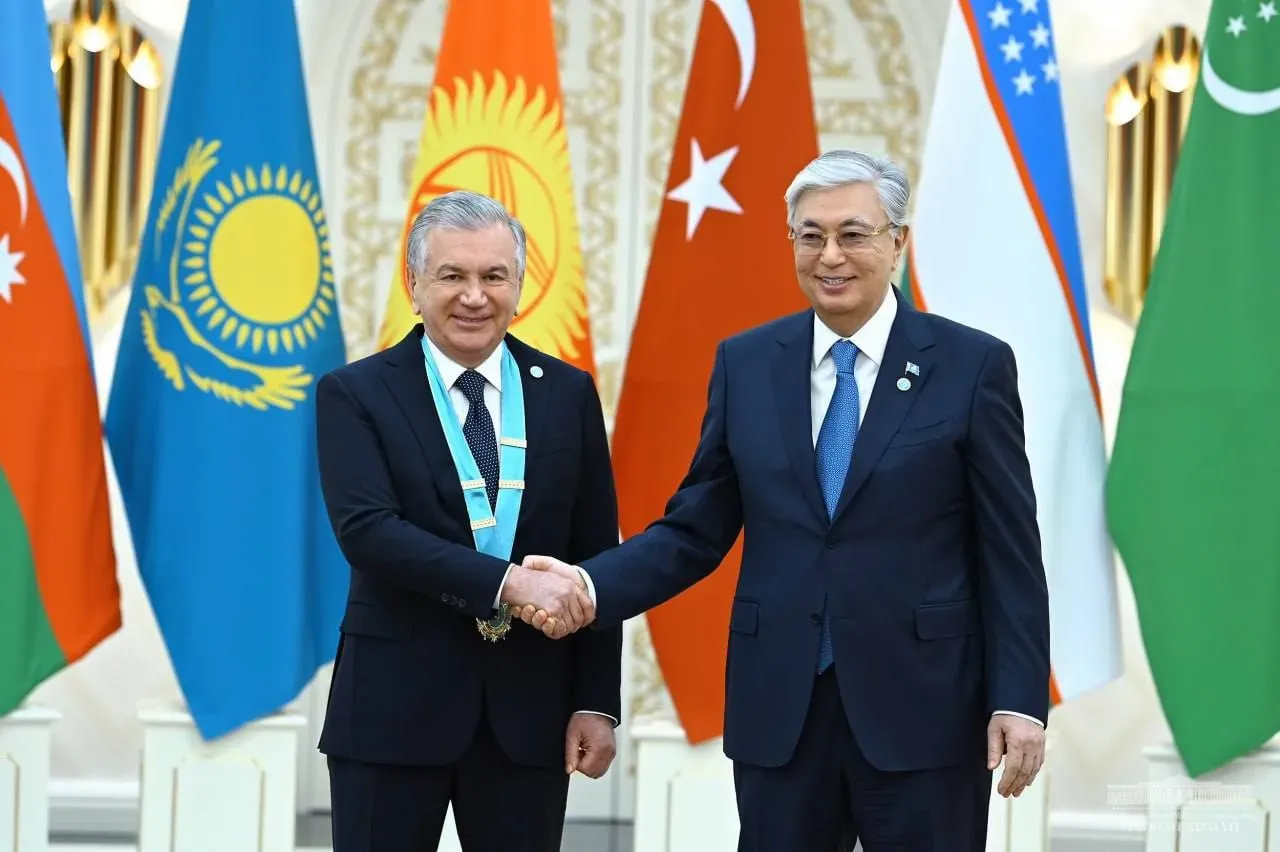 According to the press service of the Head of state, the event was attended by the President of Kazakhstan Kassym-Jomart Tokayev, President of Azerbaijan Ilham Aliyev, President of the Kyrgyz Republic Sadyr Zhaparov, President of Türkiye Recep Tayyip Erdogan, Prime Minister of Hungary Viktor Orban, the National Leader of the Turkmen people, Chairman of the Halk Maslakhaty of Turkmenistan Gurbanguly Berdimuhamedov.
The President of Kazakhstan presented the award on behalf of the heads of state of the Organization.
"I perceive this award, first of all, as a symbol of our close friendship and cooperation, which we have raised to a new level, relying on true ties of brotherhood", the President of Uzbekistan noted at the ceremony, expressing gratitude to his colleagues.
It was emphasized that recently, the authority and potential of the Turkic world has increased more than ever. Since joining the OTS in 2019, Uzbekistan has put forward over 50 proposals and initiatives to strengthen friendship, good neighborliness, and multifaceted cooperation between the Turkic countries.
During Uzbekistan's chairmanship of the Organization, over 100 different events were held, new effective mechanisms for practical cooperation were created, and a close partnership was established with several authoritative global and regional structures.
The multifaceted and mutually beneficial ties of Uzbekistan with all member states of the Organization are consistently enhancing, strategic partnership has been established, trade volumes are increasing, and cooperation is intensifying.
 "Our dreams and goals, hopes and aspirations, efforts and actions are intertwined. Our Turkic peoples, who have long been united by friendship and brotherhood, will continue to build their wonderful future together, in harmony and mutual understanding", the President of Uzbekistan said.